Automatic Call Distributor
Route your customer calls to the best-suited agent with our automatic call distribution software.
Route Calls As Per Your Business Needs
Topaz powered by Avaya uses the most sophisticated ACD cloud-based solutions in the industry, routing calls to the best agent based on skills. Other routing options can focus on customer needs, your business objectives, and your call center conditions.
Topaz routing capabilities provide centralized operations, even with a decentralized workforce in a blended call center. Whether you have one call center or maintain operations worldwide, Topaz  locates the best available agent wherever they might be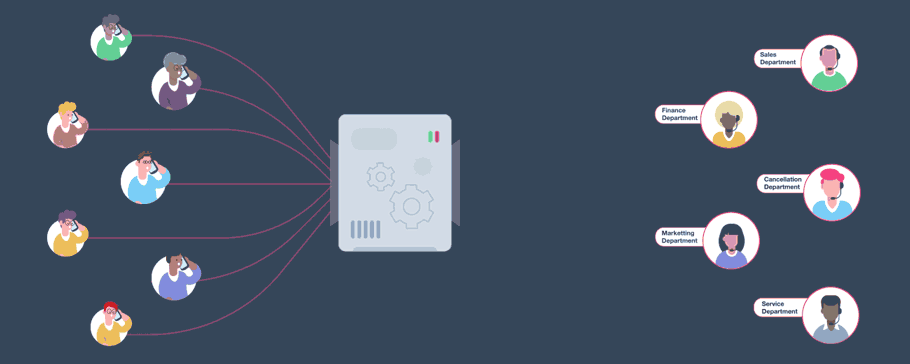 How does an ACD work?
Automatic Call Distributor (ACD) disperses the calls to the right operators on the basis of predefined parameters to assist the caller to reach the best-suited operator, guaranteeing that the customer's inquiry is settled immediately. The call steering framework is decided by numerous components such as IVR choice, caller's preference, call activity, location, etc., and is directed to the foremost skilled operator.
Different types of Automatic Call Distributor
Equal call routing
A common distribution type for centers that want agents to have equal volumes of workload. In equal distribution, agents all take turns in answering calls.
Simultaneous call routing
If you want to reduce customer waiting time then will be the preferred method. With this routing strategy, the ACD alerts all agents to an incoming call at the same time. The first agent that picks up will handle the customer.
Skill-based routing
In skills-based call routing, callers will be routed directly to the agent with the most relevant skills.
Emergency call routing
In emergency call routing, the call is routed to an available agent, irrespective of their skill or proficiency. This is especially useful in the healthcare industry.
Fixed call routing
The agents are arranged in a fixed order, and calls are initially distributed to the first person on the list. Calls are only sent to the next agent if the previous one is busy. This is a good choice if you have agents that are more experienced.
Time-based routing
Time-based distribution takes into consideration your agents' availability. The ACD will only alert agents that are available and will send the call directly to voicemail if none are open to handling it.
Benefits of Automatic Call Distributor